MANAJEMEN KRISIS PENDISTRIBUSIAN LOGISTIK DALAM PILKADA KOTA DEPOK DI TENGAH COVID-19
Wildhan Khalyubi, Azka Abdi Amrurobbi, dan Moch Edward Trias Pahlevi

Universitas Indonesia
Keywords:
Covid-19, Pilkada 2020, Manajemen Krisis Logistik
Abstract
Penelitian ini mengkaji tentang pendistribusian logistik penyelenggaraan Pilkada ditengah pandemi Covid-19 melalui paradigma manajemen krisis logistik dengan memadukan data Covid-19 di Kota Depok. Sebagai mana yang diketahui bahwasanya Covid-19 menjadi tantangan tersendiri dalam penyelenggaraan Pilkada 2020. Sehingga Pilkada kali ini merupakan Pilkada dalam keadaan bencana non-alam. Pandangan Keegan, Beamon, menjadi landasan penelitian ini, terutama dalam menentukan daerah prioritas untuk pendistribusian logistik pemilihan di Kota Depok. Metode penelitian ini menggunakan deskriptif kualitatif dipadukan dengan pendekatan studi literatur relevan dan memadukan paradigma kelembagaan penyelenggara pemilihan dalam pendistribusian logistik dengan manajemen krisis logistik, baik itu dari perspektif logistik kemanusian hingga pendistribusian secara klaster. Hasilnya ialah terdapat beberapa kecamatan prioritas dalam pendistribusian logistik seperti Kecamatan Cinere, Bojongsari, Limo, Cipayung, dan Cilodong. Sementara itu Kecamatan Sawangan, Beji, Tapos, Pancoran Mas, Cimanggis, dan Sukmajaya menjadi 6 prioritas kecamatan selanjutnya dalam pendistribusian logistik Pilkada di Kota Depok. Ini berdasarkan kasus terakhir Covid-19 di Kota Depok dalam 2 bulan terakhir yakni bulan Juni dan Juli. Meskipun fatality rate Covid-19 di bulan Juli rata-rata lebih rendah dari bulan Juni. Ini tidak berbanding lurus dengan angka penyebaran Covid-19 di Kota Depok. Penelitian ini menyimpulkan bahwasannya dalam proses pendistribusian logistik di tengah situasi bencana, beberapa kecamatan di Kota Depok dengan penyebaran Covid-19 tak begitu tinggi perlu didahulukan sebagai daerah prioritas distribusi logistik Pilkada Kota Depok. Urgensi dari pendistibusian logistik dalam situasi kebencanaan ialah guna menyegerakan logistik itu sampai tepat waktu, tepat jumlah, dan tepat sasaran agar meminimalisir terganggunya proses tahapan pemungutan suara.
References
Adinolfi, C., Bassiouni, D. S., Lauritzsen, H. F., & Williams, H. R. (2005). Humanitarian Response Review. Office for the Coordination of Humanitarian Affairs.
Asshiddiqie, J. (2007). Hukum Tata Negara Darurat. Raja Grafindo Persada.
Barkati, Z. I. (2018). Manajemen Distribusi Logistik Pemilu Legislatif Tahun 2014 di Kabupaten Malinau: Studi Tentang Pemilu Berintegritas. Universitas Airlangga.
Barratt, M. (2004). Understanding the Meaning of Collaboration in the Supply Chain. Supply Chain Management: An International Journal, 9(1), 30–42.
Beamon, B. (2004). Humanitarian Relief Chains: Issues and Challenges. The 34th International Conference on Computer and Industrial Engineering.
Cruijssen, F., Cools, M., & Dullaert, W. (2007). Horizontal Cooperation in Logistics: Opportunities and Impediments. Transportation Research Part E: Logistics & Transportation Review, 43(2), 129–142.
Fitriani, I. D., Zulkarnaen, W., Sadarman, B., & Yuningsih, N. (2020). Evaluasi Kinerja Distribusi Logistik KPU Jawa Barat Sebagai Parameter Sukses Pilkada Serentak 2018. Jurnal Ilmiah MEA (Manajemen, Ekonomi, & Akuntansi), 4(2), 244–264.
KPU. (2016). Buku Pintar Pengelolaan Logistik Pemilu/Pemilihan. Komisi Pemilihan Umum.
Lehoucq, F. (2003). Electoral fraud: Causes, Types, and Consequences. Annual Review of Political Science, 6(1), 233–256.
Lupia, T., Scabini, S., Pinna, S., Di Perri, G., De Rosa, F., & Corcione, S. (2020). 2019-Novel Coronavirus Outbreak: A New Challenge. Journal of Global Antimicrobial Resistance.
Richey, R. G., Kovacs, G., & Spens, K. (2009). Identifying Challenges in Humanitarian Logistics. International Journal of Physical Distribution & Logistics Management.
Schulz, S. (2008). Disaster Relief Logistics. Benefits of and Impediments to Cooperation between Humanitarian Organizations. In Kuehne Foundation Book (Series on).
Simatupang, T. M., & Sridharan, R. (2002). The Collaborative Supply Chain. International Journal of Logistics Management, 13(1), 15–30.
Stanton, W. J., Etzel, M. J., & Walker, B. J. (1984). Fundamentals of Marketing (7th Editio). McgrawHill Book Co.
Stoddard, D. A., Harmer, A., Haver, K., Salomons, D. D., & Wheeler, V. (n.d.). Cluster Approach Evaluation Final. OCHA Evaluation and Studies Section (ESS).
Tatham, P., Pettit, S., Jahre, M., & Jensen, L. M. (2010). Coordination in Humanitarian Logistics Through Clusters. International Journal of Physical Distribution & Logistics Management.
Vikaliana, R., & Purnaya, I. N. (2019). Optimalisasi Distribusi Surat Suara Pemilu pada Pemilihan Umum Serentak. Jurnal Transparansi, 2(2), 140–143.
Warren, J. K. (2003). Manajemen Pemasaran Global. PT Indeks Gramedia.
Wiratraman, R. H. P. (2007). Hak-Hak Konstitusional warga Negara Setelah Amandemen UUD 1945: Konsep, Pengaturan dan Dinamika Implementasi. Jurnal Hukum Panta Rei, 1(1), 1–18.
Zu, Z. Y., Jiang, M. D., Xu, P. P., Chen, W., Ni, Q. Q., Lu, G. M., & Zhang, L. J. (2020). Coronavirus disease 2019 (COVID-19): A Perspective from China. Radiology, 296(2), 15–25.
Website
viva.co.id. (2020). Tiga Opsi Penundaan Pilkada. Politik. https://www.viva.co.id/berita/politik/1270058-tiga-opsi-penundaan-pilkada-serentak-2020?page=2&utm_medium=selanjutnya-2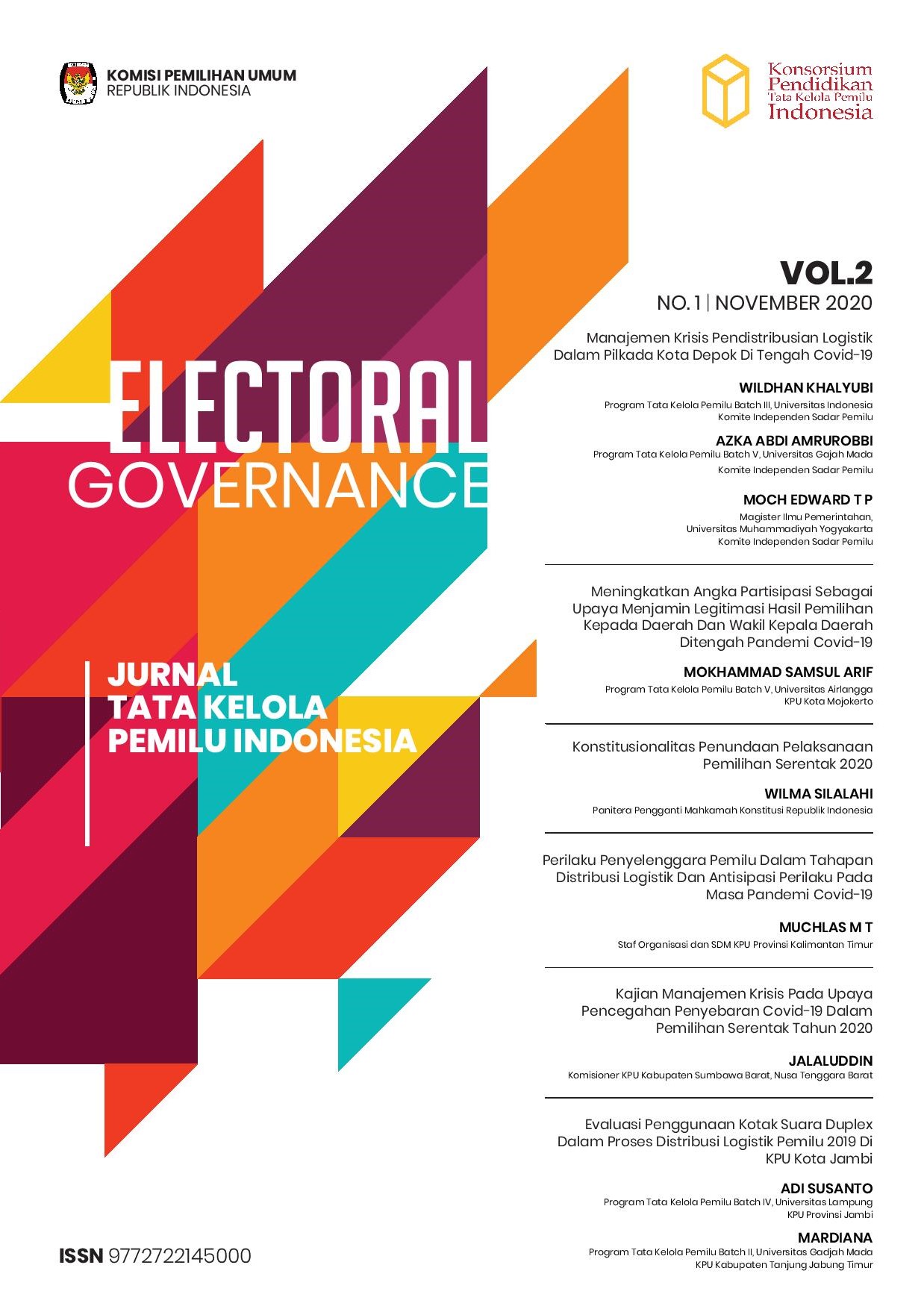 How to Cite
Wildhan Khalyubi, Azka Abdi Amrurobbi, dan Moch Edward Trias Pahlevi. (2020). MANAJEMEN KRISIS PENDISTRIBUSIAN LOGISTIK DALAM PILKADA KOTA DEPOK DI TENGAH COVID-19. Electoral Governance Jurnal Tata Kelola Pemilu Indonesia, 2(1). https://doi.org/10.46874/tkp.v2i1.204
Copyright (c) 2020 Electoral Governance Jurnal Tata Kelola Pemilu Indonesia
This work is licensed under a Creative Commons Attribution-NonCommercial-ShareAlike 4.0 International License.
Terms and Conditions of Publication

1. Author's Rights and Authorities
As an author, you (or your employer or institution) may do the following:
make copies (print or electronic) of the article for your own personal use (not for commercial purpose), including for your own classroom teaching use;
make copies and distribute such copies (including through email) of the article to research colleagues, but not allowed to distribute commercially and systematically, e.g. via an email list or list server;
present the article at a meeting or conference and to distribute copies of the article to the delegates attending such meeting;
retain all proprietary rights in any process, procedure, or article of manufacture described in the work;
include the article in full or in part in a thesis or dissertation;
use the article or any part thereof in a printed compilation of your works, such as collected writings or lecture notes, and other derivative works, with full acknowledgement to JEP as the original journal publishing the article;
may reproduce material extracted from the article or derivative works for the author's personal use, but must consider the copyrights procedure.
All copies, print or electronic, or other use of the paper or article must include the appropriate bibliographic citation for the article's publication in the journal.
2. Requests from Third Parties
Although authors are permitted to re-use all or portions of the article in other works, this does not include granting third-party requests for reprinting, republishing, or other types of re-use. Requests for all uses not included above, including the authorization of third parties to reproduce or otherwise use all or part of the article (including figures and tables), should be referred to KPU by going to our website at https://journal.kpu.go.id/.
3. KPU Copyright Ownership

KPU owns the copyrights to reproduce, distribute, disseminate, translate, and other uses in accordance with the existing Laws and Regulations.
Every accepted manuscript should be accompanied by "Copyright Transfer Agreement" prior to the article publication.

This work is licensed under a Creative Commons Attribution-NonCommercial 4.0 International License.
Electoral Governance (Jurnal Tata kelola Pemilu Indonesia) by KPU is licensed under a Creative Commons Attribution-NonCommercial-ShareAlike 4.0 International License. Permissions beyond the scope of this license may be available at https://journal.kpu.go.id/index.php/TKP
If you are a nonprofit or charitable organization, your use of an NC-licensed work could still run afoul of the NC restriction, and if you are a for-profit entity, your use of an NC-licensed work does not necessarily mean you have violated the term.